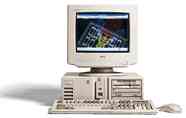 Phil Storrs PC Hardware book
The Scan Code values generated by the PC Keyboard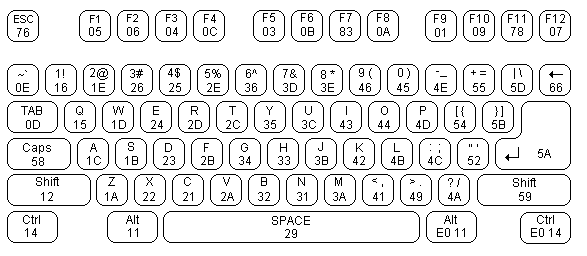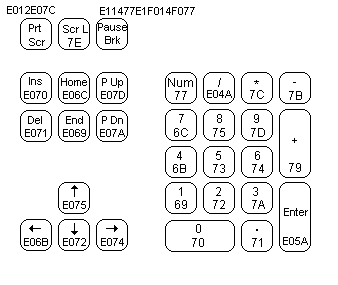 Thanks to Craig Peacock, for the above diagrams. Craig maintains a good PC interfacing page at: http://www.senet.com.au/~cpeacock/
| Scan code | Base case | Upper case | Scan code | Base case | Upper case | Scan code | Base case | Upper case |
| --- | --- | --- | --- | --- | --- | --- | --- | --- |
| 29 | ` | ~ | 02 | 1 | ! | 03 | 2 | @ |
| 04 | 3 | # | 05 | 4 | $ | 06 | 5 | % |
| 07 | 6 | ^ | 08 | 7 | & | 09 | 8 | * |
| 0A | 9 | ( | 0B | 0 | ) | 0C | - | _ |
| 0D | = | + | 0E | Backspace | Backspace | 0F | Tab | Back Tab |
| 10 | q | Q | 11 | w | W | 12 | e | E |
| 13 | r | R | 14 | t | T | 15 | y | Y |
| 16 | u | U | 17 | i | I | 18 | o | O |
| 19 | p | P | 1A | [ | { | 1B | ] | } |
| 2B | \ | | | 3A note 1 | Caps Lock | na | 1E | a | A |
| 1F | s | S | 20 | d | D | 21 | f | F |
| 22 | g | G | 23 | h | H | 24 | j | J |
| 25 | k | K | 26 | l | L | 27 | ; | : |
| 28 | ' | " | 2B note 2 | # | ~ | 1C | Enter | Enter |
| 2A note 1 | Left Shift | na | D5 note 2 | \ | | | 2C | z | Z |
| 2D | x | X | 2E | c | C | 2F | v | V |
| 30 | b | B | 31 | n | N | 32 | m | M |
| 33 | , | < | 34 | . | > | 35 | / | ? |
| 36 note 1 | Right shift | na | 1D note 1 | Left Ctrl | na | 38 note 1 | Left Alt | na |
| 39 | Spacebar | Spacebar | E0,38 note 1 | Right Alt | na | E0,1D note 1 | Right Ctrl | na |
| E0,52 | Insert | na | E0,53 | Delete | na | E0,4B | Left Arrow | na |
| E0,47 | Home | na | E0,4F | End | na | E0,48 | Up Arrow | na |
| E0,49 | Pg Up | na | E0,51 | Pg Dn | na | E0,4D | Right Arrow | na |
| 45,C5 note 1 | Num Lock | na | 47 | Keypad 7 | Home | 4B | Keypad 4 | Left Arrow |
| 4F | Keypad 1 | End | E0,35 | Keypad / | Keypad / | 48 | Keypad 8 | Up Arrow |
| 4C | Keypad 5 | na | 50 | Keypad 2 | Dn Arrow | 52 | Keypad 0 | Insert |
| E0,37 | Keypad * | Keypad * | 49 | Keypad 9 | Pg Up | 4D | Keypad 6 | Right Arrow |
| 51 | Keypad 3 | Pg Dn | 53 | Keypad . | Delete | 4A | Keypad - | Keypad - |
| 4E | Keypad + | Keypad + | E0,1C | Keypad Enter | Keypad Enter | 01 | Escape | Escape |
| 3B | F1 | note 3 | 3C | F2 | note 3 | 3D | F3 | note 3 |
| 3E | F4 | note 3 | 3F | F5 | note 3 | 40 | F6 | note 3 |
| 41 | F7 | note 3 | 42 | F8 | note 3 | 43 | F9 | note 3 |
| 44 | F10 | note 3 | D9 | F11 | note 3 | DA | F12 | note 3 |
| 2A,37 | Prnt, Scrn | na | 46 | Scroll Lock | na | | | |
All Scan Codes are given as Hexadecimal numbers.
note 1: These codes are not passed on to the buffer RAM by the Keyboard Service Routine.
note 2: Only applicable to non-U.S. keyboard installations.
na means not applicable to this key.
Each key on a PC keyboard has a Scan Code rather than an ASCII code associated with it. The above table indicates the Scan Code for each key on a 101 key PC Keyboard.
The Keyboard Processor chip, inside the keyboard assembly, scans the key matrix and when a key is pressed it sends the Scan Code for the key that was pressed, to the Keyboard Interface Circuit on the Computers System Board. The Keyboard Interface Circuit generates a Hardware Interrupt that calls a Keyboard Service Routine into action. The keyboard Service Routine processes the Scan Code, consulting two Status bytes that keep track of the Shift State keys, and places a two byte code into a Keyboard Buffer Area in RAM. If the key pressed was an ASCII character, the two bytes of data are stored with the ASCII code as the Main Byte, and the Scan Code of the key pressed, as the Auxilary byte.